---
Athens moves to 6A in new AHSAA Alignment! Athens will remain in Region 8. Other teams in the region include Florence, Decatur, Austin, Cullman, Hartselle, Muscle Shoals. Non region games will be East Limestone, Lee and one more to be added.
Complete schedule now available using the links at the top of the page.
---
Decatur Daily Announces 4A-6A All Area Team
Coach of the year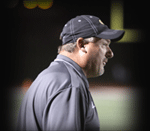 Allen Creasy, Athens: Helped guide Athens to one of the area's best seasons. The Golden Eagles grabbed the fourth playoff spot in Class 5A, Region 8, and then pieced together a postseason run, reaching the state quarterfinals. Athens finished with a 9-4 record.
2013 Player of the Year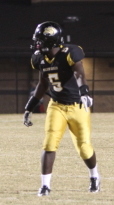 Johnnie Anderson, Athens: The dynamic safety was one of the top playmakers for one of the area's best defenses, helping Athens reach the Class 5A quarterfinals. Anderson accounted for 12 turnovers, intercepting four passes and forcing eight fumbles. He also had 82 tackles, six tackles for loss, three sacks and six pass breakups. On offense, Anderson scored eight touchdowns as the Golden Eagles' wildcat quarterback.

OL: Tre McWilliams, Athens, Sr.: The big offensive tackle was a key piece on Athens' offensive line.

K: Bram McGrady, Athens, Sr.: Returning to the football field for the first time since his sophomore season in 2011, McGrady played a key role in Athens' run to the Class 5A quarterfinals. The 6-foot-2 senior made eight field goals, including three from longer than 40 yards. He made a 45-yarder as time expired to beat Center Point in the opening round of the playoffs, and he two more fourth-quarter kicks in the regular season that led to wins. McGrady also made 35 of 36 of his extra point attempts.

DB: Paxton Schrimsher, Athens, Jr.: Was a valuable playmaker on one of the area's best defenses, finishing with six interceptions.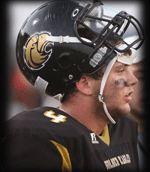 DL: Brian Sulcer, Athens, Sr.: The gritty throwback player was a valuable piece to Athens' playoff run, finishing among the team's leaders in tackles.

Honorable mention

Athens: Stevie Farmer (QB, Sr.); Taylor Northern (DL, Sr.); Jarret McLin (DB, Sr.); Tarik Malone (RB, Jr.)

View all game photos here.
View pictures of all the games. Click on the "photos" link in the left column.
---