Have a Question for Coach Creasy? Ask him! Click the button above, then listen for his answer on his radio show Thursday mornings at 10 on WKAC AM 1080.

Follow the Golden Eagles all season WKAC on-line stream.


This year the Handicapped Parking Area will be in the South End Zone Area. This is the area in recent years that has been used for the visiting team buses. To gain access, enter off Highway 31 on to Philip Rivers Drive. Signs and a Booster Club member will be there to assist in parking.

Hear Coach Allen Creasy each Thursday at 10:00am on WKAC-AM 1080. Call in and talk with the coach 232-6827.






Hendrix, Harvey and Campbell all sign football scholarships!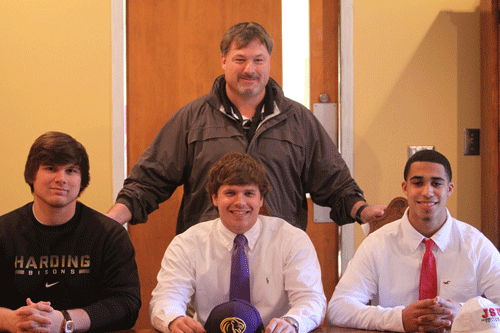 (L-R Ernest Hendrix, Adam Harvey and Jordan Campbell, Head Coach Allen Creasy stand in the background)
Seniors Ernest Hendrix, Adam Harvey and Jordan Campbell, signed scholarship papers in front of friends, family and teammates Wednesday morning at the school. Defensive lineman Hendrix was the first Athens player to sign with Harding University, a private Christian school in Searcy, Ark.

"Erny," as he is known to teammates, played against some of the best offensive linemen in North Alabama in Class 5A Region 8. He finished with 61 tackles, including six tackles-for-loss, two sacks and three quarterback hurries.
Harvey will play just down the road at the University of North Alabama. The senior began the season as the team's starting quarterback, but suffered a concussion during the first game of the season against Decatur.

Harvey signed with the Lions as a special teams player, capable of punting, kicking or even playing holder at the next level.

Campbell will play at Jacksonville State for new head coach Bill Clark. The 6-foot-1, 200-pound tight end will play slot receiver for the Gamecocks. Campbell is one of those players who didn't get his name called often, but was a key factor in Athens' offense.


---
1972 Golden Eagle Reunion Pictures
View all game photos here.
View pictures of all the games. Click on the "photos" link in the left column.
---

The Eagle has landed.
On a beautiful, crisp, fall afternoon-October 5, 2010-the Mighty Eagle landed on top of the Sport Star screen and will forever more keep his watchful eye on Athens High.