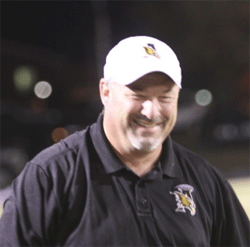 Allen Creasy, who won his 100th game with the Golden Eagles last month, spent the last 16 years as the AHS head coach has retired.
"I am thankful for the opportunities I have had here in Athens over the past 20 years. Athens has been a great place to live, work, and raise a family," said Creasy in a statement released Monday. "I have had the privilege to coach two of my sons while here, see my daughter participate in the band, and be with my youngest son almost every day at practice and on the sidelines with me. I am very thankful for those opportunities."
Under his leadership, Athens made the playoffs 12 of 16 years.They also made four second-round appearances, three quarterfinal appearances, and one semifinal appearance. His 2006 squad won the Class 5A state championship with a 12-3 record.
"I am grateful for the support I have received from the Athens City School Administration and School Board over the years. I leave feeling optimist about the future of the Athens High School Football Program and am confident they will find an outstanding coach to keep the program moving forward," he said. "As I reflect over my 29 years of coaching, I know without a doubt that my greatest privilege has been being a part of the lives of the young men that have participated in the program. I hope I have contributed to their lives in ways that help them become better men."
A graduate of Colbert County High School and the University of North Alabama, Creasy served as an assistant football coach at Colbert County from 1987-1988. He then moved to Lauderdale County High School where he was as assistant football coach and head softball coach from 1989-1991. In 1992, Creasy moved to Decatur High School where he worked as the offensive and defensive line coach under Steve Rivers. In the fall of 1996, when Coach Rivers took over the Athens Head Coaching job, Creasy moved to Athens High School where he worked as an assistant coach and defensive coordinator for four years before being promoted to head coach in 2000.
"I want to thank Coach Creasy for his dedicated service to Athens City Schools and to the football program that he has successfully led during the last 16 years," said Athen superintendent Dr. Trey Holladay. "Winning the ever elusive state football championship is extremely difficult, yet Coach Creasy led the Golden Eagles to the 2006 Alabama 5A State Championship and holds the record for the most wins as a head coach in Athens High School history. These are both major accomplishments."
"He retires now with the Athens Middle School and freshman programs in great condition and a very viable coaching staff to work with for the future. I want to thank Coach Creasy for his tireless efforts and for his 'team attitude,'" said Holladay. "He has always worked to meet the needs of the high school and the school system, while also producing great teams throughout his coaching years."
Photos for 2015 are now on-line.
View pictures of all the games. Click on the "photos" link in the left column.